You're thinking about registering for your first trade show, but you don't know where to start. The very first thing you need to do is understand why you're attending a trade show in the first place. It's all about networking. While brand awareness and direct sales are certainly important to keep in mind, trade shows are all about building connections with current and potential clients and partners. Follow these five trade show tips to boost your success!
Register Early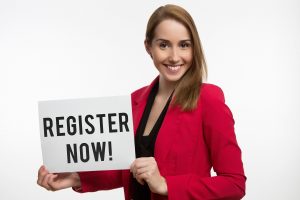 One of the most common mistakes first-time trade show goers make is failing to register early on. You should always register as early as possible to allow yourself enough time to prepare for the show. Typically you'll want twice as much time to prepare as you expect. It's easy to misjudge how much time goes into preparing for trade shows, and there are often unforeseen road bumps along the way. Plus, prices are generally lower if you register early.
Once you've registered for the show and receive your booth number, it's time to begin promoting your attendance. Let everyone know — on your social media, website, and email list — that you'll be attending the trade show. And don't forget to include your booth number in your promotions so they know where to find you when the time comes.
Check the Attendee List
Checking the list of fellow attendees may not seem all that important, but trade show veterans know otherwise. These lists offer a wealth of important information, and they can often be obtained online for free. Before registering for a trade show, it may be helpful to take a look at the list of companies attending to determine if it will be worth your time and expenses in the first place. Remember that travelling to meet with just one company can be expensive. This is why trade shows are so vital; for the price of a single trip you can meet with a variety of potential clients and connections in one location.
You should also be checking the list of attendees for updates as the trade show date gets closer. Take note of any companies or individuals you may want to meet with, as well as how many of your direct competitors are attending. If you notice another company which might make for a great business partner, reach out to them before the event to set up a meeting time. Schedules are often packed during events, so setting aside time for meetings beforehand is key.
Bring your Dream Team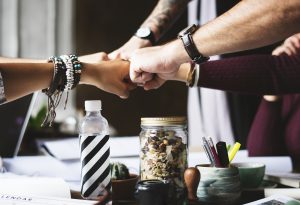 Determining who to bring, or send, to a trade show is an important decision. While it might seem like a good idea to simply send a group from your sales team, this is not advised. Your trade show team should be multidisciplinary. Include people from various departments. Someone from sales is always a good idea, but other employees with more technical or design-oriented jobs are important for answering questions about your product or service.
But regardless of what department your trade show team members are a part of, they all need to be experts on your product or service. There should always be someone manning your booth, and they need to be able to answer any and all questions thrown their way. It's a good idea to practice beforehand by roleplaying to get your team members comfortable.
Be Proactive
If you sit around and wait for clients and connections to come to you, you'll miss out. Initiate conversations with passersby or anyone who appears to show interest in your booth. You can even have some of your team members out on the floor to attract a bit more attention and draw in potential leads. And don't simply answer questions, ask questions too. The more you engage with your leads, the more likely they'll be to consider your business for their needs.
However, even after the event ends your work isn't over. You should have been taking notes on all your potential clients and business connections, and now is the time to put those notes to use. Remember to follow up within one week of the event with anyone who seems like a worthwhile investment. Don't let the leads you worked so hard to obtain slip between your fingers by not reaching out to them either by phone or email. These trade show tips won't be very helpful if you fail to follow through!
Free Stuff!

If there's one thing that trade shows are known for, it's the abundance of free, branded swag (stuff we all get) everywhere the eye can see. Everyone likes free stuff, but more importantly, everyone expects free stuff at events like these. If you aren't giving away something with your business' name on it, you're already a step behind the competition. Who are potential clients going to remember, you or the company from the booth next door who gave them a pen with the company's logo and website on it?
While items like pens are great because they're relatively cheap, have a use, and still promote brand awareness, everyone has pens. If you really want to stand out you have two options: either give away something everyone needs, or give away something unique that nobody else has. An example of something everyone needs might be a simple drawstring bag. Normally a bag might not be a big deal, but because attendees are carrying around so much free merch, it's nice to have something to put it all in.
Safeguard has it All
Getting ready for your first trade show? Make it a success with promotional products and apparel from Safeguard Premier Branding Solutions. With over 750,000 items to choose from, we have everything from pens to golf balls and tees. Contact us today to learn more about how we can help your company stand out from the crowd at a trade show. And don't forget the trade show tips you've learned here!